The coronavirus (COVID-19) has severely affected many industries including ours. With trade shows being canceled and entire cities on lockdown, it's hard to see the silver lining during this pandemic. Nonetheless, we continue to keep our printing operations ongoing. 
We have a solid yet flexible plan in place and we assure all our partners and clients that we are still fully operational and can receive and process orders business as usual. Our shipping team is up and running and we can process shipping without any delays. 
Moreover, please be assured that the safety and health of our staff and customers are always a top priority. All our employees are well informed of CDC guidelines, which we have religiously followed within our workplace and our community. 
As part of our compliance, we have applied the following measures within our workplace: 
Frequent cleaning of commonly touched areas such as doorknobs, computer keyboards, tables, desk, ballpens, telephones, and vital places in our production areas. 

Use of hospital-grade disinfectants and recommended cleaning equipment. 

Observed social distancing. 

Access to facemasks, tissues, alcohol-based hand sanitizers, hand soap, and other hand hygiene products in many areas within the workplace.

Easy access to handwashing areas for both customers and staff.

Display posters, intranet communication, and constant reminders regarding the best practices to stop the spread of the coronavirus such as proper hand hygiene, staying home when feeling sick, and using the bent elbow for sneezing or coughing without a face mask.
You can rest assured that all of us involved from production to shipping thinks of the welfare of our team and our customers every day when we come to work. 
Check out the official WHO guidelines to know more about the best workplace practices during the COVID-19 pandemic.
In a rapidly changing environment like the coronavirus, we are continuously monitoring the situation for the safety of all our staff and our customers. 
Exploring opportunities and Marketing amidst Coronavirus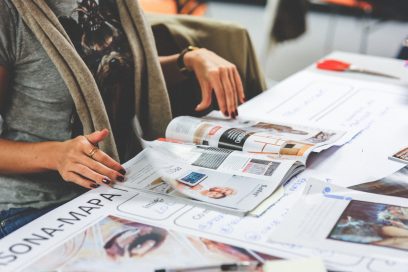 Amidst state-wide lockdowns, there are still many businesses open during this time, especially those who offer essential products and services. 
Restaurants and fast-food chains

Grocery stores

Liquor stores

Healthcare/medical services

Pharmacies

Gas stations

Agricultural manufacturing

Veterinary supplies

Banks

Other home-based businesses, and many more.
The listings above, in particular, need packaging, signs, tents, banners, labels, printing services, safety products like face shields, c-grip handle, masks and more.
Although consumer confidence is low, SMBs can take this opportunity to step up and brand themselves locally. NGOs who also want to help will need some form of promotion to rally help for the community. 
Event planners can use this time to do value-added marketing by sending sample copies of printed marketing materials or sample giveaways for their clients whose events were postponed.
That said, there are many other opportunities that you can take advantage of during this time. 
Direct Mail and EDDM
With so much noise on social media about the coronavirus, people are more likely to focus on reading the news and connecting with loved ones instead of clicking-through ads. In reality, it's very rare to catch anyone's attention on social media, and unless they've had an interaction with your clients' ads before, their engagement rate will suffer. 
Direct mail and EDDM are both low cost and a perfect alternative for less targeted social media ads. Event organizers can use this to send leaflets or sample papers for invitation cards, business cards and the like. Your clients can also integrate direct marketing with digital efforts by providing them printed QR codes that are easily scannable. 
Donations and Giveaways
Hygiene items such as wipes, hand sanitizers, tissues, etc. are in demand right now and some can hardly buy them. These kinds of donations are highly appreciated and you can also take this opportunity for your clients to be able to do a little promotion/branding for their businesses. 
Crack and peel UV coated stickers work perfectly for last-minute giveaways. If your customers are doing a local donation drive these will do very well and they're also not over the top; they're discreet but remarkable.
Home-based Retail Businesses
Handmade wellness and hygiene products are also in demand nowadays and because these are already sold out in big stores, many home-based small business owners can use this opportunity to brand themselves and sell in their community. 
This industry will need printed packaging for its products and with such demand, they're less likely to print their own packaging and labels at home. 
Offer Discounts and Flexible Payments
Free shipping, $ discounts, % OFF, buy one get one and the like are being offered by every reseller out there to encourage people into buying.
Moreover, credit cards, phone companies, car companies, and utility service providers are also offering flexible payment terms during this time. 
These kinds of offers will help your clients encourage their target market to buy especially because everyone's income is significantly affected by the pandemic. 
Virtual Events and Seminars
Since meeting with a huge crowd is prohibited in many states, many businesses have turned to virtual trade shows and online demos to make up for the cancellation of their events. 
Although virtual trade shows can never replace face-to-face communication, it's still a great way to present products or services to people.
Indoor displays like retractable banner stands can be a good background for your clients' virtual events.
They may also pre-record product demos and just upload them in digital channels where their audience can see them anytime. 
Promote Small Group Workshops 
Small group meetings allow brands to demo their product, share their knowledge, and build a relationship with their audience. Aside from knowledge-sharing, promotional materials and giveaways provide more added- value that builds a lasting good impression compared to digital channels. 
If your clients have a regular or pre-scheduled group workshop, they may still continue it provided that you properly follow CDC guidelines. 
As per CDC guidelines, gatherings of more than 10 people who belong to a higher risk population such as the immunocompromised, elderly, and those with pre-existing health conditions, should be canceled. 
In general, it is advised to cancel mass gatherings of any size especially in places where proper social distancing of at least 6 feet is not observed.